Joining a Local Chamber of Commerce or Business Club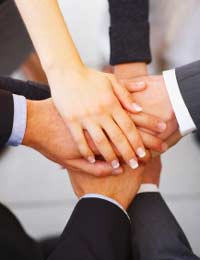 Networking with other businesses can be very valuable for businesses small and large. Here's a look at the benefits that could be gained from joining a local Chamber of Commerce group or other business club.
When you're running a gardening business in your local area, it's helpful to get to know the owners of other businesses around. Networking can take up time, but it's generally time well-spent, as you can meet useful contacts and potentially new clients. Sometimes it can take a while for any positive job leads of work to come out of it, but there are other benefits to be gained from joining a Chamber of Commerce or business club too, such as training opportunities, information, resources and savings discounts.
In Britain, there are over 100 accredited Chamber of Commerce groups. There are also numerous other business and networking clubs, from groups that aimed at particular business sectors, to groups that are only aimed at men or women. Some take place early in the morning and include breakfast for attendees, whereas others are organised for the evening.
You can find out about groups in your local area by asking around, asking for information on relevant groups from organisations such as Business Link or searching the Internet. Some groups require a fee to join and this can be quite high, depending on the group and what's involved.
It's also worth being aware that some business clubs require consistent commitment – there are often rules, for example, that you have to attend a set number of meetings per year and provide a set number of leads or business contacts for other attendees. Not surprisingly, these types of business clubs aren't everyone's cup of tea, but before you dismiss them completely, you could find out whether they offer a free trial. If they do, you can go along and attend one meeting and make the most of the contacts before deciding whether you want to sign up and attend regularly.
The Chamber of Commerce groups are generally less demanding and are ideal for businesses in a local area who want to raise their profile, have a say in local events and do their bit to help the local community. The groups may, for example, be involved in running local events, such as Christmas shopping evenings or play a part in sponsoring the annual carnival.
If you're keen on joining, then you should find all the relevant information on their website. Usually there's a form to fill in and send back, or you can telephone for more details. With some of the other forms of business club, you may need to be proposed by an existing member, but if you don't know anyone, they should be able to suggest your name for membership anyway.
Once you've joined, you can go along to the meetings and get involved. Do try and go regularly to events, as this way you'll get the best out of it. Don't forget to take along plenty of business cards and brochures when you attend, as there should be opportunities to share details of your business.
You might also like...