Setting Up a Nursery or Workshop at Home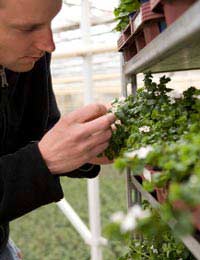 If you're running a gardening business from home, then the chances are you may well need to either set up a nursery or some form of workshop.
For gardening businesses that are involved with either growing plants to sell or growing plants for use in landscape design jobs, then a nursery will be an essential part of your business. A nursery can either be situated in a different location or, if you have enough outside space, it can be located at your home, or at least outside in the garden!
When you're planning a nursery at your home premises, then you'll need to consider how best to make the most of the space and create a functional area. Depending on what you're growing and the conditions the plants will need, you may need to erect poly tunnels or greenhouses. You'll also need to consider whether you'll need space for expansion, for example if your business is starting small but expands, or you want to embark on growing a wider variety of plants.
It's a good idea to measure out the available space before you invest in poly tunnels or greenhouses and will ensure they will fit into the space you have. You may well be able to put up a greenhouse on your own, but if you've not done it before, then it might be wise to get assistance – you need it to be secure and stable and don't want to have problems later on.
Planning and Setting Up a Workshop Area
If you also need to have a workshop area, for example somewhere to plant up plants into larger pots, store equipment, split seedlings up or get seeds growing, then it's also important to look at how much space you have available. Ideally, any workshop area should provide you with a good amount of space to work in and also be functional, so that you get the best out of the available space.
As with designing an inside office space, it's a good idea to carefully consider how you'll organise the space and how you want to use the room. Take the key measurements and make a note of where any power points are. Then use a pen and paper to draw out a diagram, or find a free online tool where you can design a room. Don't forget to include everything you'll need in the workshop, such as a work bench, shelving, cupboards and any pieces of equipment. Once a room is put together, it's more difficult to have to lug around furniture or move workbenches if they don't fit, so doing it on paper or on a computer is well worth it.
When you've finalised your plans and know what you need to include, you can move on to setting it up properly. If you're buying everything new, then you may need a fair bit of cash to play with, as equipment and fittings may be expensive. But if you don't mind not having new, or at least to start with, you may well be able to get a fair few of the essentials secondhand.
When all the equipment or fittings have been arrived, it's time to actually put them into place. Follow your plans, but if things don't work out in quite the way you'd imagined, then don't panic. It's important that the layout works for you in reality, so make any tweaks and changes before you get started with work. Once you're working in a workshop it's much more difficult to shift around items or change the layout and you'll wish that you've got it perfect from the outset.
You might also like...
I want to start with a home business nursery plants but how and where to find seeds near by in Namibia mostly house decor plants to sell my space is enough.
None
- 9-Jul-19 @ 3:54 PM
I look forward to receiving information on setting up a plant nursery
tim
- 20-May-19 @ 1:07 PM
I look forward to getting advice on setting up my nusery
tim
- 20-May-19 @ 1:05 PM
How to start a plant nursery and how investment it will take to establish
murali
- 11-Jul-16 @ 10:41 AM