The Pro's and Con's of Working from Home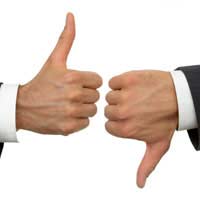 Running a gardening business from home is an option that many people choose. But, like any working options, it does have its pros and cons.
It's perfectly achievable to successfully run a home-based gardening business and many people take to it really well. However, anyone working from home knows that it is important to remain focused, motivated and organised, so that your work and home life don't blur together.
Working From Home – The Pros
There are a variety of benefits to be gained from working from home – here are some of them.
You save time with not having to do a daily commute or travel a long distance to work. This means you can, in theory, get more done during your working day as you're not wasting time on the road or on the train.
It's good to able to set your own hours. As long as you're not dealing with customers or client visits, you can pretty much set your own working hours. So if you're an early bird, you can be out working in your nursery or workshop from dawn, or if you're a night owl, you can burn the midnight oil if you wish.
There's a good degree of flexibility. If you're a parent and need to take children to school or collect them at the end of the day, then you can build this into your daily schedule without experiencing any extra hassle from employers.
There are less overheads to pay when you're working from home, as opposed to renting an office or work base. This is a big advantage, especially when you're just starting out, as it means you can save a bit of money. It's also possible to claim back a percentage of any heating and lighting costs in your annual tax self-assessment.
You get to choose where you work and design your own working space. If you hate open plan offices or working with other people, you'll love being able to choose where you work and how you design your space.
Working From Home – The Cons
Sadly, there are some downsides too:
Lack of motivation. Without a boss breathing down your neck or other people busy in your working environment, it can be hard to motivate yourself. If this seems to be an issue for you, it's something you need to address, as lack of motivation could harm your business prowess.
Being at home, there are distractions. When your gardening business is based at home, there will inevitably be some distractions around in the house and garden. It's easy to think you'll just do the washing up, make a few personal calls or watch the news, but way too easy to get carried away – and before you know it, time has flown and no work has been completed. You do need to be quite strict with yourself to ensure this doesn't occur.
Not knowing when to stop work. A big problem with working from home is not being able to stop working. It's very easy to do a bit of extra work in the evening, or nip in to do a bit of work over the weekend. But work-life balance is important and it's not good for your spouse or family to suffer from you doing too much work. It's also not good for your own health to work too much – you need to relax too!
It's important to be aware of both the positives and negatives before you start working from home. If problems do occur, try and address them as soon as possible – early intervention gives you time to iron out any problems and make working from home work well for you.
You might also like...