How Much Space Will Your Business Need?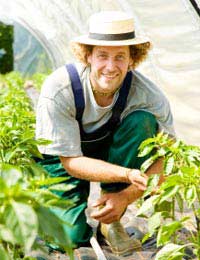 So, you've decided you're going to run your gardening business from home, but have you considered how much space you'll need?
When you run a business from outside premises, you don't normally need to worry quite so much about having enough space. Commercial premises will be sold or rented to you with clear details about exactly how much space they provide, so you know what you're dealing with from the outset.
Things are a bit different when you're working from home, though. Not only will it be your work space, and where you operate your small business from, but it's also your living space too, and where you'll go and rest at the end of a busy day. This is why it's vitally important to think about how much space you'll need from the outset, before you get your business up and running.
If you're lucky enough to have a spare room sitting unused, a workshop, shed or spare building outside, then you should feel relieved, as this could become your working area, or at least part of it. Ideally, it's better to be able to shut off your work from your home – even if it's only by means of shutting a door – as if the two collide too much, it can really tamper with your work life balance.
However, not everyone is lucky enough to have oodles of spare space lying around waiting to be used. Some people, for example, have to convert the kitchen table into a temporary computer desk or take up residence in the corner of the living room in order to be able to get started.
Working Out What Space You'll Need
Wherever your working space is going to be, it's useful to sit down and properly work out exactly how much space you will comfortably need before you fill it all up with working gear. The exact space that your business will require will depend on the nature of your gardening business – whether you'll be growing and selling plants, if you'll have equipment to store ready for going to design and landscape people's gardens or if you'll need space for other products to sell to customers.
To try and work out what space you need, you could ask yourself questions such as:
Do I need space ready for potting up plants, taking cuttings or dealing with seedlings?
Do I need much space for storing gardening equipment? If so, how much equipment needs to be stored and how big is it all?
How much space do I need to store gardening supplies, such as compost?
Do I need to have space to set up a computer and desk?
Do I need to have space available for welcoming customers to my workplace?
Is there enough space for working at home?
Is there enough space to accommodate a growing business?
Hopefully the answers to these questions will help you work out what space you need and how best to use it to your advantage. If you realise that you don't have enough space available, then you'll need to think carefully about whether you could re-arrange your house or garden to accommodate your business. If it really doesn't seem possible, then you may have to re-think your plans or see if there's any way in which you could afford to rent some suitable space.
You might also like...
could some one please help me with the enquiry of statring a garden business from home as been unemployed has no thrills or spills but want to make a difference
looby
- 24-Jun-15 @ 7:07 PM