Setting Up a Home Office for Your Gardening Business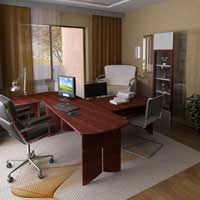 Many small business owners, including those running gardening businesses, choose to work from home. If this is an option you're considering, you'll need to set up a home office.
A home office is essential for all businesses based from home, especially in order for you to keep up with all the paperwork and communication with customers and suppliers. Even if your gardening business is more of a practical, hands-on planting or growing business, there will still be paperwork you need to do and a small home office will be relevant to you.
There are various options for your home based office. It can either be situated in a designated room of the home (or even outside in a purpose built office in the garden) or, if your business is only small scale or you've got limited space available, you could just have an office area in part of a room.
Creating a Dedicated Office
If you've got enough spare space to dedicate a whole room to your office, then it's a good option to go for. When you're planning your office and its layout, you need to work out what items you need to have in it and how everything will fit in. If you'd like to try out a plan of your office, there are various free bits of software you can find online to help you plan out your room. This is particularly useful if you can't quite visualise how you could arrange your office, as virtual items of furniture can be moved around on screen, without actually having to lug around heavy actual furniture.
Creating an Office in Part of a Room
If you don't have enough space to set up your office in its own dedicated room, then it can be just as successful using part of a room of your house – but you do need to be organised!
There are many products available that fit well in small spaces, such as small functional desks, corner desks and quirky storage facilities. Some desks are even designed to be pushed in or have doors that can close around them, so your computer can be hidden away when not in use. If you can't find anything the right size for you, then you could always design your own and put a curtain around it, or perhaps put a screen in the room as a kind of partition between your living and work space.
It's important to realise that the space you need is likely to increase as you continue trading. For example, you're likely to build up quite a bit of paperwork (and accounts paperwork needs to be kept for a number of years), so do try and leave yourself with a bit of space to grow.
What Office Items Do You Need?
Some of the items you may want to consider including in your home office are:
A desk and comfortable office chair.
A filing cabinet, or smaller file storage box for a small office.
Good lighting, especially over the desk area.
Cupboards and drawers.
Bookcases and shelves.
Computer equipment, plus a scanner, fax machine and printer.
A telephone and answering machine.
It's also useful to ensure you have enough electrical sockets in your office, or extension cables that can be used to add extra sockets in. Plus, you'll need a telephone point and broadband connection available too.
As a small business owner, you may well find yourself spending a fair bit of time in your office, especially in the early days when you're setting up your business. By creating a functional and pleasant space in which to work, it should help your motivation and business prowess.
You might also like...