Garden Design Skills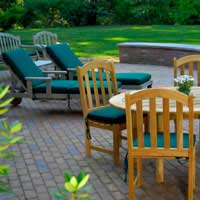 If you're thinking of going into business selling your garden design skills and working as a landscape designer, here's a guide to working out how to go about marketing your skills.
A garden designer or landscape designer plays an important role in helping people with gardens – large or small – to make the most of their environment or create unique designs to fulfil the needs of the garden owner. Running a garden design business is an option that many budding gardeners choose, so it can be a competitive market to be in.
In the first instance, it helps a great deal if you have some degree of experience in garden designer – whether from previously working in this area, from a hobby or if you've gained a recognised qualification in garden design, landscape design or horticulture. In fact, having a qualification in this area can help considerably when you're just starting out, so if you don't already have any qualifications, it may be worth doing a course before you launch your business. Alternatively, you could be studying as you begin to set up your business, although it may be a lot of hard work to do the two alongside each other.
What Garden Design Skills Do You Need?
In order to work in garden design or landscape design, you'll need a variety of skills and experience. There are many aspects involved in this type of work, including things you'll do during part of the job and other aspects that you'll do regularly or even on a daily basis.
Some of the skills you'll need include:
Garden design skills and creativity – You'll need to be able to envisage what a client wants and be able to put it into action.
People and communication skills – So you can communicate well with clients and get a good grasp of what it is they want you to achieve.
Planning and basic drawing design skills – You'll need to be able to produce plans and basic drawings of what you propose to do. Many clients will be able to get a much better idea of the finished design from your drawings.
Planting skills – So you can choose which plants, trees and flowers to use and where best to plant them.
General gardening skills – So you can do all the necessary preparation in the garden to clear soil or lay paving.
Buying skills – So you can secure the best products at the best prices for your clients.
Flexibility and Reliability – It's not always an easy job and you have to work in all weather conditions. So it helps to be flexible and reliable, so you always do the work, whatever the conditions.
As well as the main task of designing a garden, drawing a plan and then putting it all into action, it's often necessary to maintain the garden on a long-term basis. So you need to get on well with your clients and maintain long-term working relationships.
On top of all the skills mentioned above, it of course helps to have good business skills too. Over time you'll get better at planning, estimating how much things cost and sourcing products, but it helps to get a good grasp on this as soon as you can, so you don't out-price yourself or lose money by getting your estimates wrong.
You might also like...
i have no experience, but i want start a gardening business, please tel me how can i start it
Raj
- 25-Jul-16 @ 2:03 PM
Sreymom - Your Question:
Hello, I really interest to garden design business. Could you help me how can I archive my goal. Thank you for your help. I am looking forward to hearing from you. Best Regards, Sreymom
---
Our Response:
All the articles in this series are designed and written to help you with this question. I cannot advise any further on the information they contain.
StartAGardeningBusiness
- 15-Jun-16 @ 2:38 PM
Hello, I really interest to garden design business. Could you help me how can I archive my goal. Thank you for your help. I am looking forward to hearing fromyou. Best Regards, Sreymom
Sreymom
- 15-Jun-16 @ 5:15 AM
I have no experience in starting up a business but I know gardening. We are planning to move overseas and I would like to start a gardening business there. I would like to know where to start and if it will be possible to start a gardening business overseas without experience.Kind regards S
squirrel
- 2-Jan-16 @ 10:12 AM
I need to get a bit of training for my garden work
marc
- 10-Oct-15 @ 11:19 PM
Plz help me on gardening design techniq , i m intrested in gardening business... My no. 9623996363 Thank you.
dada
- 11-Jul-15 @ 2:08 PM