Have You Got the Skills to Run a Gardening Business?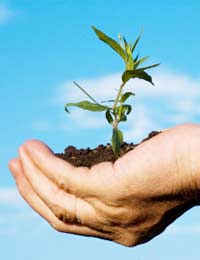 You're thinking of starting up and running your own business and you want to focus on gardening. Whether you're thinking of selling gardening products and supplies, going into garden design, want to be a hands-on gardener or teach gardening to others, how can you determine whether gardening really is the right business for you?
Many people dream of ditching the day job, following their true passions and setting up their own business. But although the dream can sound fantastic, the reality of working for yourself, being your own boss and running your own business can be far from idyllic. It's a sad fact that many new businesses, however well thought out and planned, fail within the first three years of trading.
Due to this, setting up your own business, in gardening or any other area, isn't a step to rush into madly and should instead be carefully thought through before you make any rash decisions. As well as looking at how the market is currently performing and how your plans could bring something new to it, or slot in between what's currently available, it's important to look at your own skills and experiences and be sure that you've got the necessary skills to make your business successful.
Assessing Your Skills and Experience
If you're excited at the thought of setting up and running your own gardening business, it's a good idea to spend some time in the first instance working out what the main appeal is and assessing your skills and experience. It may be that you've always enjoyed gardening or garden design in your spare time and want to turn a hobby into a business, or perhaps you've got lots of business skills and have spotted a niche in the gardening line of work that you could fill, or that you've recently studied for gardening qualifications and want to put your newly found skills into action.
Whatever your background and motivations are, start by making a list of all the skills you have. To get things down on paper, it may help to answer questions such as:
Do you have practical gardening experience and knowledge?
Can you tell a weed from a healthy plant?
Do you have professionally recognised gardening certificates or have you done any gardening training courses?
Do you have experience with the business side of things?
Do you think you'll be competent at learning to run the business?
Do you work best on your own or with other people?
Do you know the gardening market well?
Are you trained with using computers, or could you do a computer training course?
Do you have good time management skills?
Are you good at doing accounts and bookkeeping?
Are you a gardening, plant or garden design expert?
Are you good at communicating and selling products or services?
Once you've answered the questions and made your list of skills and experience, it's helpful if you then think about any areas of weakness. For example, it could be that you're an expert gardener, but aren't so up on the practical side of running a business, so could do with some extra help in this area. Or perhaps you think your skills are better suited working in partnership with someone else.
If you're uncertain about any of your experience, or lack of it, it doesn't mean you've not got the right aptitude or skills to make a business successful. However, it may highlight the importance of working on the areas in question and improving things to a level you're satisfied with.
As far as certification goes, it's not essential for everyone working within the gardening field to be qualified and trained, but it can significantly help, especially when you're just starting out. So if this is an area of concern for you, perhaps you could explore training courses that you could do, either before you set up your business, or alongside running it.
You might also like...
I just started my gardening business and I don't know about it I need help
Sharon
- 23-Aug-15 @ 9:57 PM
How do I get this set up and running
Jacke
- 17-May-12 @ 10:29 PM