Writing a Press Release to Promote Your Business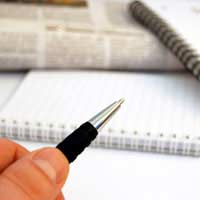 In order to promote your gardening business to the full, it helps to write and distribute a promotional press release. Here are some useful tips to help you write a press release and identify the key details to include.
Press releases are an ideal way of promoting your new gardening business launch, highlighting any achievements you've made with your business, new products you're selling or special events you're holding and is one of the main ways of attracting interest from the media. Hundreds of press releases are written and released each day and, with so many vying for attention, you need to ensure yours stands out from the crowd in order for it to get noticed.
Press releases usually follow a set format, so it helps to know what this is and what types of information you need to include. You also need to be sure in your mind who your intended audience is (business or consumer) and all the main points you'd like to make.
The Main Elements of a Press Release
The headline. This needs to be short, snappy and memorable, but also highlighting the main aims and reason for the press release.
Opening paragraph. This needs to include all the main facts, including mentions of the name of your company and the new products, service or events you're promoting. As journalists receive so many press releases, they often skim through reading them, so it's important to encapsulate the main points concisely in your first paragraph.
The following paragraphs. These should contain all the supporting information in order of importance. It's a good idea to include relevant quotes, such as from the owner of the business.
Further information. At the end of the press release, always include a box of further information, so journalists or media outlets can get in touch with you for more details or to interview you. Include the name of your business, the business address, key phone numbers, an email address and your company website.
Tips for Writing Your Press Release
It's best to stick to writing your press release in third person, as this comes across far more professionally. Ideally, try and make it only one A4 page long, or 1½ pages at most. Many journalists won't bother ploughing through a long release and much prefer something that's concise and quick to read.
Whilst it's good to include a quote from someone from your organisation, don't go overboard with using quotes. If your referring to any surveys or forms of market research you've carried out amongst your customers, always try and provide details, for example either in the release or at the end in the 'further information' section about how you gathered the data and how many people were surveyed.
Try and avoid being too 'wordy' or using flowery language – recipients of you release will spot it a mile off and won't appreciate it. Once the press release has been written, always ensure that it's accurate and contains no errors or spelling mistakes.
If you don't feel confident writing the press release yourself, then you could employ a freelance PR consultant to write it on your behalf. The benefits of this are that they'll already have good experience writing press releases and marketing businesses, plus they should be experienced in sending it out and reaching the right people.
You might also like...