Hiring Staff to Promote Your Business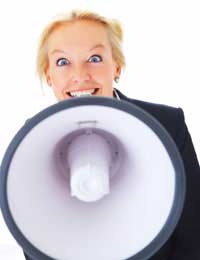 Once you've got a gardening business set up, it's important to promote it well and to the best sector. But whilst it's something you can do yourself, it's often well worth hiring staff to promote your business for you.
As a small business owner, life can be incredibly hectic. It's great being involved in all areas of running your gardening business, but as you're likely to discover – and soon – is that your time is stretched in many directions and it's difficult juggling everything. Splitting the tasks and responsibility helps enormously, as it frees up time for you to concentrate properly on some areas, instead of flitting from one job to another and never properly finishing anything.
Hiring staff to help with promotion and marketing can be a really good move. A PR specialist is trained to know how to promote a business in the most effective way, using tried and tested techniques, as well as unusual and quirky means. If you're considering hiring promotion staff, then you may well need to carefully consider your staffing resources and whether it's a financially viable step to take. You don't necessarily need to employ someone on a full-time basis, so could consider whether part-time or on a freelance or contract basis would work well for you.
Hiring a PR Specialist
If you're thinking of hiring a PR specialist, you could either advertise the position or take a short cut and contact relevant PR companies yourself. You should be able to find companies in your local area, or who cover your market focus (in this case, gardening) by either looking in business directories or through searching the Internet. In some cases it may be interesting to see which companies do the PR for other businesses similar to yours, as this gives insight into their expertise.
When you're negotiating with interested parties, remember to get full details of their background, what campaigns they've worked on, other companies they've worked for, what they'd charge and exactly what work they're prepared to do for that fee (i.e. the best companies/individuals will handle everything, from writing and sending out press releases, to following up, handling calls from the media and organising press events).
It's also useful to ask for some sample ideas as to how they'd go about promoting and organising promotion campaigns for your business. A good PR should be able to come up with a variety of ideas, but if this task foxes them, perhaps they're not right for you. If you'd like feedback on how they've worked for other companies, then ask to be put in touch with other satisfied customers.
Recruiting Staff for Other Promotions
As well as a proper PR professional, you could also consider hiring staff to promote your gardening business in other ways. For example recruiting people for temporary, short-term promotional purposes, like sandwich boarding or dressing up as novelty plants or trees to hand out leaflets, can be effective for certain promotions. Hiring people for occasional work such as this is unlikely to impact too much on your staffing resources and it's often popular with students or other temporary workers.
You might also like...