Sponsoring Gardening Events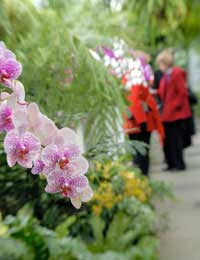 As a gardening business, you're likely to always be on the lookout for new and different ways of promoting your business and generating positive PR opportunities. One way that could work for you is to act as a sponsor for gardening events.
There are hundreds of gardening events that take place throughout the UK each year. These range from small scale local events, such as garden open days, plant sales or gardening skill demonstration days, to large national events, such as gardening and horticultural shows or workshops. Whatever the size or scope of the gardening events taking place, they're likely to share a few common elements – and one of these is the need for sponsors.
Acting as a sponsor for an event can work out well for both parties involved. For you, as the business providing help, support or monetary contributions, in return you'll get your business name and contact details in any programmes, advertising or promotional activities that the gardening event run. This can work out as quite a lucrative form of promotion as, depending on the size of the event involved, your business name and branding may be seen by a large number of people. In fact, despite your best efforts at advertising and promotion on your own basis, sponsoring an event can mean getting a lot more people aware of your business than you may be able to manage on your own.
How To Find Opportunities to be a Sponsor
If you're interested in getting involved an acting as a sponsor for small or large scale gardening events, then in the first instance you'll have to do a spot of research. If you're initially interested in events going on in your local town, city or region, then you need to draw up a list of all the events that take place each year – as many of them are held on an annual basis. Then you need to find out who the organisers are and get in contact with them to see if they need a sponsor.
It's a similar process for national events, but do be aware that the larger gardening events, shows and workshops are prepared and organised well in advance of when they're taking place. In the case of the well known events, such as the Chelsea Flower Show, plans for the following year often start as one show ends.
If you're unlucky and aren't able to find any events to sponsor immediately, then you could always try contacting local colleges where they run gardening and landscape gardening training courses. They may well be on the lookout for course sponsors, or sponsors for special events, such as college students who want to enter national gardening events (like the Chelsea Flower Show) by producing a small garden to showcase their work.
When you're negotiating with an organisation about becoming a sponsor, do make sure to get everything finalised on paper, so you both know how the sponsorship will work, what advertising and promoting will be done, how your business name and reputation will be used and exactly what skills, experience or funding you'll be giving the organisation or event involved.
Getting involved with sponsoring events can be a very rewarding experience and building your business name may just be the icing on the cake, as there's a lot more to be gained too.
You might also like...