Developing a Customer Service Policy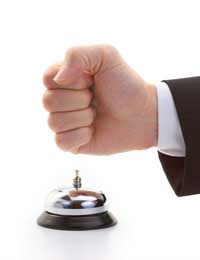 It's crucial for businesses to build a good relationship with their customers and developing a customer service policy can strongly enhance this.
As a gardening business, it should be a key aim to gain and retain customers on a long-term basis. You should also be aiming to provide a great, reliable service, so they tell their friends and family about you and recommend your services. Keeping customers that come again and again to you for their gardening needs is what will help your business survive.
It's never too early to think about your customer service policy, in fact it's best to consider it as soon as you can and get a strategy into place. This doesn't only need to focus on how you'll gain and retain customers, but also what you'll do and how you'll handle situations should a customer be unhappy. The reality of the situation is that, even if you have hundreds of happy and delighted customers, it's still possible to have one or two customers who are unhappy.
Unhappy customers are likely to complain, both to you and their friends. But if your business is keyed up, armed with a plan and ready to tackle the situation head-on, problems can be resolved amicably.
Working Out Your Customer Service Policy
Well in advance of any problems occurring, you should take time to think about how you'll handle customers and work out your customer service policy. Some of the issues you may consider include:
How will we handle customer complaints?
Will one particular person deal with complaints?
How soon will we respond to written or verbal complaints?
Will we provide full refunds if a customer complains?
Will you provide some form of guarantee in case a complaint arises?
If a guarantee isn't feasible, how will complaints be handled?
If a complaint arises in a shop situation, who should be called upon to help with it?
Your customer service policy should be clear, understandable – by both staff and customers – and something you will be able to achieve. If it's not going to be feasible for you to offer guarantees, such as if a plant is to die, then you need to come up with a solid way of handing all complaints.
Once you've worked out your policy, it needs to be typed up and distributed to all staff. It should also be discussed and incorporated into any staff training you do, so that everyone knows how to act and respond should a problem occur. Role-playing activities may help with this, for example, especially with practicing the best type of communication to use in such situations.
If you have a policy in place, it can significantly reduce the trauma of experiencing complaints. Plus it can turn a customer who's unhappy into a long-term and happy customer. Of course, not every complaint will have a happy ending and some customers may not return, but it should be your ultimate aim to sort things out as best as you can – as they say, 'the customer is always right.'
You might also like...