Sales, Special Offers and Discounts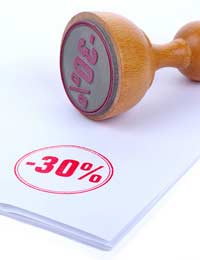 If you're keen to boost your sales and raise your business profile with your customers, then having sales, special offers and discounts could be the way to go.
All customers love to get a good deal and it's your job, as a gardening business, to help your customers get the best value for their money. If they're spending less for good quality items, and getting consistently good service, then they're more likely to come and buy from you again – and tell their friends about your gardening business.
Some gardening businesses have regular offers on selected products, or by running special discount schemes for regular, loyal customers. Others have big sales at certain times of the year. For your business, you need to consider which approach you're going to take and look at the figures to assess which will make you the most money, and be best for your customers too. There's no point having a mass sale with rock bottom prices if it clears out all your stock and doesn't cover your costs.
The main thing is to do your research and buy carefully from wholesalers, so that you can successfully sell great products at reduced prices and do well from it. Whatever you choose to do, be careful not to go overboard with your sales. There are some gardening businesses that become well known for always having sales and always having the same products on sale, and you don't want your customers to get bored with what you have on offer. Variety is certainly the key for gardening business sales and special offers.
Promoting Your Offers
One crucial step to making any sales, special offers and discounts work effectively is to ensure people know about them. This means getting stuck into advertising and promoting them as much as possible, so you can spread the word amongst many current and future customers.
This is where having a customer database will be handy, as you'll automatically have a base of customers to draw on for your advertising approach. Utilising the power of the Internet is ideal, as you can send promotional emails out to thousands of people at the blink of an eye. If you're not proficient with technology, then be ensure to employ help from someone who is, as gardening businesses – whether online or shops – benefit greatly from being able to reach their customers easily and efficiently.
If you have a blog or forum on your gardening website, then you can also mention any offers there – just be careful not to go overboard and promote them endlessly, as you don't want to turn into a stuck record.
Advertising locally is important too, especially for a bricks and mortar store. Local newspapers and magazines are really good for this, as you want to attract lots of people, but you could also try advertising with a leaflet drop or posters. Plus, don't forget to have some leaflets handy for customers to take away when they shop with you.
The one thing to remember with your advertising and promotion is to get the timing right. Start too soon, and people run the risk of forgetting, but leave it too late, and you could miss the boat. The more you're in the business, the better you'll become at judging when to advertise and which method works best for you.
You might also like...