How Market Trends can Benefit your Business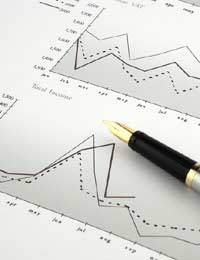 Market trends may come and go, but they can have a great benefit on your gardening business. Here's how.
If you look at the current market for garden products, plants or accessories, or look back over the last few years, you're bound to notice some trends that have come, some that have gone, and others that have stayed. In any line of business, there are market trends that crop up from time to time and the businesses that do well are the ones that identify and latch onto these trends. This means stocking the relevant products in their stores, being prepared to apply the trends to their gardening or landscape design services, or teaching and demonstrating the trends to gardening classes.
Some of the trends that have hit the gardening world over the years include the surge in the popularity of water gardens and having, often elaborate, water features in the garden and the use of decking as an alternative to paving or gravel. There are also trends with certain plants or flowers that come and go. In the case of both water features and decking, in many ways they are trends that are still with us – the only difference is that the height of the trend has gone.
Identifying Trends and Acting On Them
For a gardening business, they key issue is to be in touch with the consumer mind, be able to identify trends and be prepared to act on them. You can keep up with the main trends by several means. Some of the useful ones are:
Watching relevant gardening programmes.
Reading gardening magazines and newspapers (as well as home and lifestyle publications that have garden elements in them).
Keeping track of what gardening celebrities and experts are up to.
Attending consumer and trade garden and horticulture shows.
Watching out for newly released garden books, especially by well-known gardening experts or writers.
Talking to your customers to find out what they're interested in.
See what's happening in other parts of the world and if there are any trends that may migrate to the UK.
It does take a certain degree of faith to act on a trend as soon as you spot it, as not all trends thrive as much as others. It's helpful to have a contingency finance fund in place, so you've got money available when a suitable trend crops up. If it's feasible, you can source and buy in a few of the relevant products or accessories and test them out on your customers. If you're a garden designer, then you could take along examples of the trends in action and suggest elements that could be incorporated into your customers gardens.
Try and avoid going overboard and buying up too many of the trendy items, just in case the trend doesn't take off in your area. You don't want to blow your finance budget on things that won't sell. It's also important to keep in mind that some trends are influenced by the area, so what's trendy in large cities may not prove the ultimate in garden trends for people in country or rural areas.
On the plus side, trends can boost sales – even if on a temporary basis – and provide added interest for you and your customers. If you spot a trend heading your way, it's definitely worth riding the trend wave and getting the most you can out of it.
You might also like...