Selling Your Gardening Service Online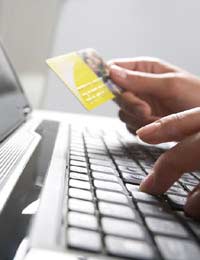 If you're looking for another outlet for your gardening business, or want to expand and reach more customers, then selling your garden service online may be the answer.
Most gardening businesses are keen to maximise their profits as much as possible and make the most of all available avenues. Selling on the Internet has soared in popularity in recent years, to the extent that it's looked upon as being mad not to have some kind of website advertising your business and garden products, even if you don't sell on there. But selling online is hugely popular too, not least as it means you can reach a wider customer base, and it's definitely an option worth exploring.
Whether you sell gardening equipment, garden products, plants or seeds, there's the possibility that you can sell your products online, through an online store. If you're not that adept at using the Internet or are flummoxed by the idea of trying to set up a secure online store, then don't worry. There are easy to use alternatives, such as setting up an online store on Ebay. Well known as an auction site, it also offers customers the chance to buy product at a 'buy it now' price, otherwise known as a set price. This means you can offer set prices, like you would in any other store.
It's surprising how many big businesses do sell their wares through Ebay. Even if they have a separate online store, they often have an Ebay store too, mainly for the reason that it expands their business potential beyond their own website.
Getting Started With Selling Online
If you're interested in selling your gardening business services online, then you will need to get organised. It may be useful to get some help from someone else, or employ someone purely to look after your online store, as it can be a fair bit of work. You won't come face-to-face with customers, but being online means that they can buy garden products from you at any time of the day and night. Once a product is purchased, ideally you should try and get it packed up and sent as soon as possible. The last thing people want when they buy online is for it to take a real age for the goods to arrive.
You'll need to carefully work out your pricing, particularly for how you'll price the postage and packing costs. It's good to aim for a price that's as realistic as possible, covering your costs but not too much that it puts buyers off. You'll also need to find suitable packaging for sending products in. If you're sending plants in the post, this is of particular importance, as it would not serve you in good stead if a plant arrives at its destination looking bedraggled or even dead.
If you're using a site like Ebay to front your online store, then it's generally easy to use, but may take some time listing items. Read through all the instructions, be clear with your product descriptions and make sure you include pictures with every listing, as people want to be sure about what they're buying.
Once you get used to selling online, it will become a quicker process to get through. If you want your store to be a success, people need to know about it. So, don't forget to advertise your online store too, whether online through banner ads on other sites, through Google ads or alongside any other non-Internet advertising that you do.
You might also like...