Using Trade Shows to Promote Your Business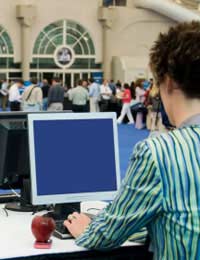 As a gardening business, you'll always be on the lookout for new opportunities to promote your business, services and wares. One really useful method to use is exhibiting at trade shows. Here we look at just why they're so effective.
A wide variety of trade shows take place across the UK each year, many of them focusing on gardening or the home and garden sector, and they're great for businesses to get involved with. The trade events offer a good chance for businesses to display all their latest products, plants or services, and for owners of shops or other businesses to go along, view what's available and what they'd like to stock in their shops.
Trade shows are ideal for building up your gardening business profile and for meeting other key players in the gardening or landscape design world. Even if you're not having a stand yourself, it's very worthwhile going along and attending for a day or two, as it's an ideal chance to network with local or national people who run similar businesses to yours.
Exhibiting at Shows
Trade shows can be local, national or international, and are held at venues ranging from small halls to massive exhibition centres. It's worth considering all options, as even the very small scale shows are good for making local contacts and gaining new buyers and you never know who you might bump into. Regional and national events are obviously a lot bigger, taking place on a much larger scale, and often last for several days at a time.
The cost of having a stand and exhibiting at such a show does vary, with the larger national events commanding a higher fee. But if you consider the extra business and sales you could gain, especially if you have an online or mail order store that you can advertise, or offer other gardening services, it can be very worthwhile. Sometimes there are chances to have smaller stands, or half a stand, rather than a huge one, which can help reduce the cost.
Whatever size stand you have, take time planning in advance how you'll organise and display your plants or gardening products. As with any form of advertising, first impressions will count and you need to provide a professional appearance from the start. Adding dimension to a stand will help, so you could create different layers, or have blocks on which to display some products. It's good to add colour too, through display cloths, and don't forget to have a large sign with your business name and website clearly listed on it.
If you've produced leaflets, brochures or business cards, trade shows are the ideal time to have them available for potential customers and business contacts to pick up – don't forget to offer them, too.
It's often hard to know exactly how much stock to take with you to events. Many trade shows are merely concerned with advertising and displaying what you've got, and taking future orders, so you may not actually be selling products directly at the event. But to get the best out of it, you need to clearly show the types of items you specialise in, so don't take too little, or your stall will be bare.
What is often expected at many of these home and garden trade shows is that businesses will have a few free gifts, samples or goodie bags to give away. These are handy if you've got someone interested in ordering from you, as it means they'll be taking away a few extra items to remember you by. But they're also good for general means of advertising and promoting your business.
Before you attend the exhibition, have a think through about what you could give away in goodie bags and how much you can afford to give. It doesn't have to be a great deal – for example, packets of seeds, leaflets about your gardening products or services, a couple of bulbs, a bookmark advertising your business name or a pair of gardening gloves would all be perfectly suitable.
Being a Trade Show Speaker
Some of the shows have additional elements, such as speakers, classes, workshops and demonstrations, which are great to be involved with. They can work well to highlight your ability to offer more than just gardening products, and can help build your name up as a gardening expert. If you're keen to advertise and promote your business as much as possible, then the extra add-ons are a great way of hands-on advertising to an audience who are interested in gardening.
Find out well in advance if any of the events you're attending offer these extra advertising opportunities and put yourself forward as a potential speaker or demonstrator.
You might also like...