Business Networking Opportunities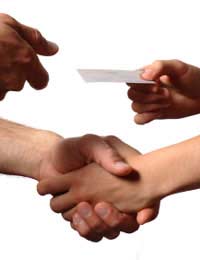 Although you may think you've got all the knowledge and contacts you need, all businesses benefit to some degree from networking with other business people, especially when running a locally based business.
There are various ways in which you can get involved with business networking opportunities. When you're first setting up a business, especially if it's based locally, then it's useful to get to know other local traders. This might be others based in the same retail complex as you, in the same road or in a similar line of work. It may be as simple as calling in to chat to them or you could suggest meeting up for a drink after work or at lunchtime.
If such an informal arrangement isn't for you, then there are various organised business networking events that you can get involved with. All areas have them and they're typically arranged by business organisations such as the Chamber of Commerce, your local Business Link group, through business advisors, trade associations, Academy groups or other independent business groups. If you're not aware of any, then it's worth asking someone at your local Business Link group for details – as well as their own networking opportunities, they should be able to tell you of others that may be of use.
Events take place at various times of the day. Some groups, for example, like to have early morning breakfast events, before the working day properly starts, as some members find it a good time of day. Others take place in the evenings, or straight after work. The meetings will vary in how they're operated too. Some are designed purely to be for exchanging contacts and business leads, whereas others may have invited speakers along to chat about various business aspects. Sometimes there will be pure social events, where you're encouraged to get to know all the other attendees.
Business networking opportunities are great for bringing together business people, either in an informal or formal setting, and allows you to take part in debates on topics of relevance to your line of business. Sometimes there are also valuable opportunities to share your thoughts and opinions and shape the way community events are organised and planned. A wide range of people attend, so you could, for example, get to mix with your competitors, suppliers, customers and service providers – plus any others involved in helping your business tick over.
Top Tips for Business Networking Involvement
If you want to get the best out of attending business networking events, here are some top tips for making the most of your involvement.
Be prepared to mix and socialise with other members, getting to know them and what they do.
Take along plenty of business cards and copies of any brochure you have, so you can pass on details of your gardening business. Don't thrust them on people who really aren't interested though.
Be prepared to sell your business – some groups require new members to give a short sell of their business when they first attend.
Try and attend as regularly as possible, so you can get the full benefits.
Listen and learn from other businesses – you could glean advice such as training ideas, management techniques, industry developments and industry regulations.
Sometimes it's hard to know how to fit networking into your already busy working life, but try and view it as a necessary extra component. It could hold a lot of benefits for you, not least valuable contacts, so go along and enjoy the experience. If one group doesn't work out for you, or you feel your business doesn't quite fit with the existing members, then try another group – there are plenty out there.
You might also like...