Offering Your Gardening Services for Major Events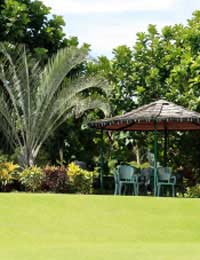 As the owner of a gardening business, you'll no doubt be keen to promote your gardening services at every opportunity. One of the ways you can do this, and help make a name for yourself at a local or national level, is to offer your gardening services for major events.
When you're setting up and running a new business, you need to think about the variety of different ways in which you can promote your business and make a name for yourself. Major events take place throughout the year, as one-off events or annual slots on the calendar and can be a good way of showcasing your services on a local or national level. It could be that there is an annual agricultural show near you, a gardening or horticultural event, a large trade fair, a major sporting event or even a large annual conference.
At first glance, you may think that the opportunity for gardening services are limited at events like these, but think again. When a location is being spruced up in readiness for a major event, the focus is on improving the grounds, making a statement and setting the stage inside. Gardeners are often in demand, both inside and outside, to help with basic tasks such as gardening or mowing, or to provide plants and flowers to place inside the venue.
Sometimes flower or plant displays are provided for free, whilst at other times there's a budget to pay for it. With many key events, service providers get a mention in event programmes, get to have their business name and contact details displayed close to plant or flower displays and get good recognition for their involvement.
Although you may have to set aside considerable time to get involved with such events, the recognition and name dropping can help promote your company and lead to other lucrative contacts.
How to Get Involved With Major Events
If you're interested in exploring the possibility of offering your gardening services to major events, then the first stage is to find some events that you could get involved with. Initially it may be easier to start with large events at a local level, although if you're based close to where major national events take place, then by all means start at the top.
Events and service providers for events are planned well in advance, so don't hang around and leave it too late. Find out who is organising the event and write, email or phone the organisers to introduce yourself, find out if any gardening services are required or suggest ways in which your business could help with the event.
Depending on how service providers are being chosen, and especially for large national events, you may need to put in a tender to offer your services. If this is the case, then you'll need to carefully think and plan out your tender application, working out the cost of plants or services, and thinking about how long it would take you to set up.
You may be competing against other businesses to try and win the tender, but unless you're really desperate for the work, it's not advisable to undercut everyone else too much, as this may end up setting a long-term precedent for low fees. You also need to ensure you can do the job effectively and to the best of your ability, and if you're working to a low fee, then this could be challenging.
Preparing for the Event
If you successfully win the tender to provide gardening services for a major event, then in the weeks or days leading up to it, you need to be organised, plan carefully and ensure you can meet the requirements properly. If you're able to attend any parts of the event, then take along some business cards or brochures to give out, or leave contact details for your gardening business alongside any plant stands that you provide.
It can be hard work being involved with major events, but it can be very worthwhile for a new or growing gardening business and is a very good way of promoting your gardening business and getting your name and services out into the community.
You might also like...