Finding Your Unique Selling Point (USP)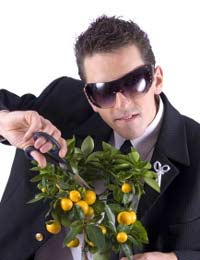 In order to help your business stand out from the crowd, make money, generate interest and retain long-term customers, it helps to find and maximise your unique selling point, or USP.
USP stands for Unique Selling Point (or sometimes Unique Selling Proposition). In a nutshell, it's what makes your business stand out from others and sets you apart from your competitors. If you're going to have a successful gardening or landscape design business, then you need to find your unique selling point as early on as possible and build on it throughout the life of your business. Sometimes additional or new USPs can be developed over time, for example if you suddenly spot a niche that needs filling or are able to become an exclusive seller of a certain type of equipment or plant product.
If you can't think of a USP for your gardening business initially, then you'll need to put aside some time to brainstorm and think of potential ideas. Ideally, this is something you should do in the early stages of planning and setting up your business, as your USP will come in handy when you're doing marketing and advertising. You also may be able to incorporate your USP, or related ideas, into marketing material, such as brochures, leaflets, posters, business cards or even signs for your business.
Questions to Ask Yourself
When you're trying to work out and think through your unique selling point, there are a number of key questions you could ask yourself and use to find your USP. These could include questions such as:
What makes your gardening business different to other competing businesses?
Will you be offering any unique services or products?
Do you have special skills or expertise to offer?
Does your business have a niche focus or broad offering?
Is there anything special about the way you plan to do business?
Are you offering a particularly speedy delivery service?
Do you plan to deliver for free?
Who do you envisage your customers to be?
Are you planning to have particularly low or special prices?
Are you offering any special discount schemes for regular customers?
Is there anything special or different about the location of your business?
What benefits will customers gain from hiring your services?
Are you offering any free services, courses or demonstrations?
Are you offering customers the chance to try out products?
Are you going to be exclusively selling certain products or types of equipment?
Try and answer the questions as honestly as possible and make a list of any positive or different points of your business that you'd like to highlight. When it comes down to it, there may be a thin line between what you're planning to offer and what your competitors already do, but in order to develop your USP you need to be able to promote and highlight this.
Writing Your Unique Selling Point
Once they've found their USP, many businesses find it good to put it into words and write it down. In fact, in many situations, people use their USP, or elements of it, within their advertising and marketing blurb and in any straplines or catchphrases associated with their business.
For example, the straplines below illustrate how you could incorporate one or more of your USPs into simple adverts for your business, as commonly seen on brochures, posters, website headers or business cards:
"The only gardener you'll ever need."
"Expert gardening help and advice."
"Exclusive seller of XXX gardening products."
You can play around with fitting a short and sweet example of your USP into your advertising and marketing blurb. If it would help, try showing a few friends or family members examples of what you're thinking of using and see how receptive they are to it.
Your unique selling point is your chance to promote the opportunity customers could gain from buying or using your business services. Don't try and cut corners and ignore spending time finding your USP and don't be afraid to boost your business up. In the long run, finding your USP could have a highly positive effect, bringing in extra money and helping your business soar.
You might also like...