Starting a New Business with a Partner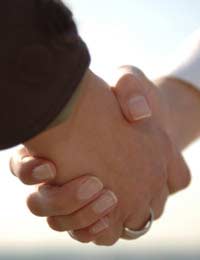 One popular option for people starting a new gardening business is to go into partnership with someone else. If you're thinking of going into business with a partner, here's a lowdown of some of the issues involved.
Going into business with a partner, or partners, can work out successfully for many people, but in the same way as starting a business on your own, you do need to be organised, prepared and committed to make it a success. Having a business partner to share ideas with, brainstorm with, lean on for additional support, sort queries out with and work out solutions to problems is great for first-time business owners, as it means you've got some to share the highs and lows with. It's also useful if one partner has more experience in certain areas of running a business, such as management, buying or leadership skills, as it can strengthen the business.
Starting a new business with a partner isn't something to do lightly though, and should be thoroughly thought through before making it official. You need to ensure you will get along well with your partner, or partners, on a long-term basis, as fall-outs are never good to deal with. It's also important to ensure you all share the same vision for your business, as conflicting ideas can cause problems. This is one reason why clear and regular communication from the start is crucial for a business partnership to run smoothly.
Setting Up a Partnership
When you go into business with a single partner or several partners, each partner is assigned a share of the business. Depending how you work this out, this doesn't necessarily have to be an equal share. For example, sometimes shares are commonly worked out according to how much financial investment or mutual funds are put into the business by each person.
Alternatively, shares can also be worked out by how much time someone is going to be spending working on the business. Sometimes people only become sleeping partners, to invest money, but don't actually work in the business or aren't involved in the day-to-day running or decision making side of things.
There are some formalities involved in setting up a partnership and, to start with, each partner has to register as being self-employed. Each individual, plus the partnership as a whole, then has to complete a self-assessment tax return on an annual basis each year.
A solicitor needs to be involved in drawing up the partnership agreement and makes sure everyone is clear of all the details involved. As a guideline, it should cover details such as:
The names of all the partners.
The name of the business and what its focus is.
The date the partnership starts.
Information about the capital, mutual funds and the interest on it.
Details of how many shares each partner has.
Details of how the profits will be split.
Information about the management and control of the business.
Information about what will happen if one of the partners leaves, dies or retires.
If you're forming a Limited Liability Partnership (LLP), then you also need to submit a form called an Incorporation Document (LLP2) to Companies House. This form covers similar details to the partnership agreement, plus the location and address of the registered office, the name, full address and date of birth of each partner, and details of which partners are the 'designated' members.
The designated member, or members, will have certain duties to perform, such as submitting the accounts, employing an auditor, signing the accounts, delivering the accounts and annual return to Companies House, and updating Companies House with any changes to the members or their addresses.
Once all the formalities are completed, it's time to put all your plans and ideas into action and start building up your business.
You might also like...