How to Run a Greener Gardening Business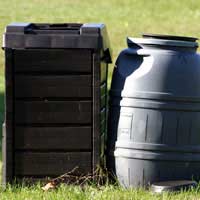 Is your gardening business environmentally friendly? If you're looking for ways of running a greener business, then there are plenty of avenues to explore.
How Your Gardening Business Can Get into Recycling
With all the increased awareness about the environment and waste, more and more businesses are doing their bit by recycling. As a gardening business, it would be good to focus on recycling as much as possible and to develop a recycling policy, so both customers and other employees are aware of it and know what you're doing.
There are a variety of ways in which you can incorporate recycling practices into your business life. For example, you could make it a policy to always recycle as much of your packaging materials and plant pots as possible, reusing pots rather than throwing them away.
If you have an office, or mail order gardening business, then you could ensure there's always a box close by so materials such as paper or packaging can be recycled, or documents that aren't needed anymore can be shredded (the shreddings can even be used on your compost heap, if you have one).
Composting Waste Gardening Materials
If you offer practical gardening services, or are running a nursery, then you have the perfect business opportunity in which to make full use of composting. All waste garden plant materials, such as grass clippings or dead-headed plants, could be put to very good use on a purpose-built compost heap. As well as helping the environment, you'll also be helping your own business too, as the material that rots down will form compost that you can re-use the next year.
Alternatively, if you have a lot of material to compost – for example if you are offering gardening services to customers and are bringing back the waste garden materials – you could even turn the compost into a money raiser, by selling bags of compost to customers.
Choosing Greener Vehicles
Another way in which you can help your gardening business to become greener is to think about choosing or using greener vehicles. For example, if you are just starting out and buying a van or car for your business, you could look at cars with smaller engines. Not only will they have lower CO2 emissions, but you'd also save on fuel costs and have lower road tax fees to pay. If you want to go one step further, you could even opt for an electric car instead.
Cut Down on Electricity
When you're making changes and trying to adopt greener business practices, it's also a good idea to look at your electricity usage. Many companies routinely leave computers or other electrical equipment on standby during the day, and even at night, but turning off equipment when not in use can significantly reduce your electricity use.
To gain a clearer idea of exactly how much electricity you're using – and it can be a real eye opener to do so – there are electricity measuring gadgets that you can buy to track this. If you have the traditional style of light bulbs in your office or business premises, then consider changing them over to energy saving light bulbs instead.
You might also like...