Registering in Business Directories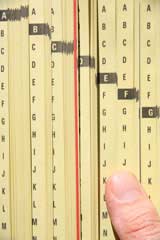 When you're starting up a new gardening business, one of the important aspects is letting the world know your business now exists, so you can attract clients and work. One way of spreading the word is to register in business directories.
New businesses are being created all the time, in the gardening field and other specialities, and there may already be a lot of competition in your local area. It's an important part of your business plan to think about how you'll let potential customers know about your existence and the services you offer and there are many ways of spreading the word. Apart from advertising and PR, one useful method to utilise is registering in business directories.
There are a variety of business directories around, both published in print form and online on the Internet. Some are national, others focused on your local area or region, and yet more than cover the international business world. If you're starting a gardening business focusing on selling garden products, offering practical, hands-on gardening services or as a landscape designer, then the chances are you'll need to find local business directories to, and perhaps also some national directories too.
Finding Business Directories
One of the most obvious and widely used form of business directory is the Yellow Pages, which also has an online version too. If you don't have a copy to hand, you can always get hold of one in a library. If you'd like to register to be listed in it, you can either follow the instructions online on their website, or phone up and ask to be listed.
Another similar directory which is useful to get a listing in, especially for attracting local clients, is a phone book of your area. Your business can either have a standard one line entry, or pay a bit more for a box listing – these are recommended, as it at least helps your business name and number stand out a bit more.
In many local areas of the UK, there are also other similar directories produced, focusing on local traders and the various services they offer. For gaining local business, it's handy to get into as many as these as you can, or as you can afford, so search your local library for details, or ask for information from a local business club.
As well as the many print directories, there are also lots of business listing sites online, so it's well worth turning on your computer and looking for relevant options. A simple online search should reveal some, or you could ask around and see if any other businesses you know could recommend any. Some are purely focused on local traders, whereas other specialise in certain areas, such as gardening. Some of the online directories offer a free listing, whereas others may require a small fee.
If you can't afford to be listed in too many places in the first instance, then go for the big names first, like the Yellow Pages, then try out additional directories as and when you can afford it. As the years go past, you may find that certain directories produce far more leads and actual examples of work than others, so you could drop ads from the less lucrative directories and opt for those that are more profitable.
Don't forget to ask any new clients where they found your details, as this is useful for helping you track which directory listings have proved to be the most worthwhile. Of course, having business directory listings shouldn't be used as a complete alternative to other forms of advertising and promotion – but used in conjunction with each other, they can work very effectively and bring you the business you deserve.
You might also like...