Finding A Suitable Base for Your New Business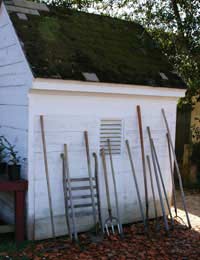 If you're looking to start a gardening business, then finding a suitable base in the right location is crucial.
The right – or wrong – location can make, or break, your business, so it's an important consideration and something to think carefully about before you make your final decision. The location is extra crucial if you're planning to run a gardening or plant shop and will have members of the public visiting your premises.
In some instances, especially if you're starting out small and running a gardening service or landscape design business, then you may find it better to work from home, even just to start with. Home based businesses can be just as successful as businesses hiring premises, and you've got the added bonus of having limited overheads and fees to pay.
If you do want to work from home, then it's important to ensure you have space set aside for working and for storing any equipment – working from the lounge or a space in the dining room may not be the most effective solution. Your company is important, so treat your business with respect and give yourself a comfortable, clean and practical environment in which to work. Even if you don't plan to operate a home based business on a long-term basis, it can be a good way of starting off and testing the market, before launching out and finding commercial premises.
Finding Premises for Your Business
Vacant business properties are typically found through the commercial property arms of estate agents, or through searching through local newspapers or business websites. The local authority in your area may well also keep a list of any vacant commercial properties and local business organisations may well know of soon-to-be vacated properties too. All in all, it's important to keep your ears and eyes out for any details of relevant properties and to go and investigate them as soon as possible.
Commercial properties in some areas, particularly within popular shopping centres, out-of-town centres, specialist craft outlets or the town or city centres themselves, can often be highly in demand. Once you've found out details of relevant vacant premises, it's useful to assess whether they're likely to be the kind of commercial property you're looking for. If so, then go and see it. In the very first instance, when you've not got much background on which to judge whether or not it might be suitable, then viewing a few properties will help you identify strengths and weaknesses of certain areas.
What to Look For When Finding a Business Base
In the same way that various issues are important when you're looking for residential property, so too they were will be key things when you're searching for your perfect business base. Some of the key issues you need to consider when looking for a business property for your company include:
Is it easy to reach by car, bus or train?
Is there good parking?
Is it easy to find?
Does the area around the property look appealing?
How much space is there?
What is the working environment like? Is it noisy nearby and is there enough light?
Is there good access for pedestrians?
Are there good services and facilities installed? (e.g. telephone and broadband, central heating, air conditioning, burglar alarms etc).
Are there any competing businesses already in the area?
What does it cost?
Keeping a checklist of which each property you see offers is a good way of keeping on track with what's offered where. Ultimately you may reach the position of having to decide between two or more properties, that each has their pros and cons, and deciding which elements are the most important to you, and a good, thorough checklist will help with this process.
Finding the right location is only the start of your conundrum, though. Once you've got the perfect premises, is the price right for your budget? The cost is likely to play a big role in your decision. It's worth bearing in mind that some properties may offer enticement deals, like a rent-free period, but overall their costs may be higher, so you must check the small print. Remember to check if there are maintenance or services fees to pay, how much decoration is included in the price, what the typical running costs are and if there are any reviews or recommendations available from previous tenants.
It can be hard work and somewhat tedious searching for a home for your company, but it's worth persevering to find the right commercial property – and the right deal – for your business.
You might also like...