Promoting Your Business Nationally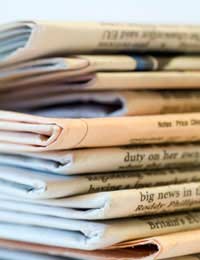 If you're looking further than your local area and are keen to promote your business nationally, then here are some useful ideas for advertising and promotion.
By their very nature, many gardening businesses are better suited to being run and promoted on a national level. It may be that you offer mail order facilities, so it doesn't matter so much where someone lives in the UK, as they can still receive your products, or that you're offering online sales, which also takes away any local restrictions.
When it comes to advertising and promotion, the same principles of doing so on a local basis apply. You need to access the best and most likely market for your gardening business and make your ads memorable, rather than forgettable. There are various methods and modes you can use to achieve this, or use a combination of several methods for full effect.
Newspaper Advertising
Advertising in newspapers, particularly the larger national newspapers or even regional daily newspapers could help you reach the customers you're after. Adverts in national newspapers will come at a bit of a price, but you may well be able to negotiate a deal so that you can online ads thrown in too or so that your ad goes alongside relevant editorial content, such as gardening or home and gardening features.
If they're running any special home and garden supplements, as many newspapers do, then this can be great to get in with. There may even be the possibility of an advertorial too.
Magazine Advertising
If you want to reach people nationally, then it would be wise to explore the option of magazine advertising too. Lifestyle sector magazines, focusing either purely on gardens, gardening or horticulture, or on home and garden issues, are ever popular and there are a variety of different titles published. As their readers will almost automatically be tuned in to the type of products and plants you're keen to promote, it provides a great base for promotion.
Again, prices will vary for ads, depending on the particular publication involved and the size of ad required. But, like newspapers, there may be some scope to negotiate an advertorial or mention in the editorial. Plus, you could even offer up a discount for readers or some products for use as competition prizes in the magazine.
On the Internet
Online advertising on the Internet is another key way to reach the gardening audience nationally. All the well-known and large companies and media providers have websites, many with advertising space available. In addition, you could swap banner advertising with other national companies, such as garden designers, garden centres, gardening suppliers or nurseries, plus use your own website to advertise your services. If you add additional content to your website, and create search engine optimised (SEO) content, then you could boost your Google rankings and score well when anyone searches for gardening related issues online.
Carefully Crafted PR
In addition to the advertising methods discussed, don't overlook the benefits of carefully crafted PR. If you're promoting your gardening business nationally, then you'd be wise to employ a PR to concentrate purely on promoting your business. Choose carefully and find someone with great contacts and they could boost your image and name through well written and targeted press releases to the national media.
You might also like...