Developing Marketing Strategies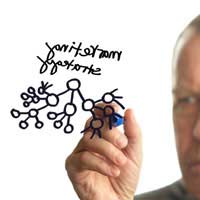 All businesses rely on marketing to help them survive and it's no exception for your gardening business. If you're debating how to go about marketing your business, here are some strategies that may be worth exploring.
Marketing is all about informing people and keeping them informed and up-to-date about your business. It's an important task and is something you should undertake regularly and continually, even if your business is currently thriving in a seemingly effortless way. It's easy to spend time and money promoting and advertising your business in the early stages, when you've just set up and are new to the market, but unless you continue with this to some degree, you may lose out on business in the long run.
It's a good idea to have time and money set aside for marketing. Depending on the size of your business, you may even be able to employ a specialist in a part- or full-time marketing or market research role. But even if you're doing the job yourself, on top of everything else, you can still make a good impact, as long as you're prepared to work at it.
There are a wide variety of different marketing strategies that you can make use of, from traditional techniques to more modern approaches. There's no need to stick to one or the other though – the more you use, the better your results and sales are likely to be.
What Are Your Objectives?
When working out what marketing strategies to use, it's important to have a clear idea in mind of what your objectives are and what you'd like to achieve. It also may help if you've conducted some market research beforehand or sussed out areas in which you'd like to further develop your gardening business.
If you've not yet got this clear in your mind, then spend time thinking through your objectives – it may help, for example, to have a brainstorming session and write down any ideas and aims. For example, some aims may be:
To increase brand awareness or knowledge of new products or service you're offering.
To work on generating new leads or sales.
To increase awareness of your expert credibility and teach more workshops or classes.
Whatever your particular marketing objectives, you need to keep them in mind and set targets to help you meet them. Each time you've achieved an objective, don't forget to create a new one or two, so you've always got something to aim for.
Different Marketing Strategies
Some of the different types of marketing strategies you may wish to try out include:
Investing in PR and targeting specific areas of media.
Using direct mail to target new customers.
Having a stand at trade shows and exhibitions, or visiting them and networking with other relevant businesses.
Exhibiting at consumer shows and events.
Increasing your presence at a local level, through more advertising.
Offering gardening products, plants or garden advice as prizes in local or national competitions or giveaways.
Internet marketing, such as through developing your own website or online store, or through banner adverts on other sites, regular articles posted on your website, writing gardening blogs or through increasing your business presence on social networking sites.
Improving your market research, so you're clearer about the types of products and services that your customers want.
The exact approaches and marketing strategies that you take will vary, but it's beneficial to try as many different ways as possible. There may be times, for example, when increasing your PR output works well, but other times when you'll benefit more from Internet marketing or exhibiting at key trade and consumer events. You've got to be prepared to be flexible and go with the market as it changes and the demands and needs of your customers alters. A gardening business that is flexible and prepared to change is likely to have more chances of succeeding than one that stagnates.
You might also like...