Promote Your Business Online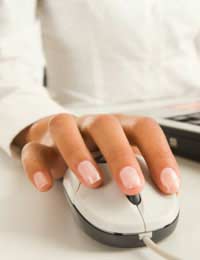 Your new gardening business needs promoting and marketing and one great way of doing so is to promote it online. Here are some ideas and methods you could use.
Creating a Company Website
As a starting point to promoting your gardening business online you'll need an effective website. This can be used to sell goods, market your gardening business, tell customers what services you offer and list any special offers or discounts.
It's a good idea to register your own domain name - ideally this should be the same as your business trading name, as it will make it much easier for your customers to find you. It's possible though that there may be another business in the UK or another part of the world who's had the same idea and already snapped up the name you want. If this happens, try varying it, such as putting hyphens between the words, or seeing if different prefixes are available (e.g. .biz instead of .com). In the end, whatever you choose must be memorable.
There's a small annual fee to register a domain name – the exact fee varies, depending in part on what prefix you choose, and on which company you're using for the registration. Shop around and look to see what different companies offer, as you could get a good domain registration and / or hosting deal.
Writing a Blog
To attract customers back to your gardening website time and time again, even when they're not setting out to buy, is a good aim to have. One way of gaining interest, and a rather trendy one at the moment, is to create a blog.
A blog can feature news and information about business, including new products you've got for sale, business promotions and any special offers you're running. It's also good to include other relevant information, such as hints and tips about gardening, flower and plant advice, problem solving and gardening techniques. This is the kind of information that, if written well, will draw readers back to your blog and remind them about your business.
Online Adverts and Banner Adverts
Internet adverts are good for spreading the word about your gardening business, and your website, further afield. You can use services such as Google AdWords, or swap adverts with other relevant websites.
Many sites use banner advertising and are happy to swap ads with other small businesses. If you search on Google for 'banner ad sharing' or a similar term, you'll come up with sites that swap ads.
Promotion Through Forums
Another good way of carrying out business promotions online is to promote your website and business through forums. A quick Google search will find a variety of gardening-related forums. Although it can be time-consuming, it's a good idea to have a look through the offerings, choose one or two that you like the ethos of, and become a regular poster.
It's a good idea to avoid blatant promotion initially, so that regular forum posters warm to you. You could, for example, answer posts on gardening problems or chat in general about gardening and plant related issues. In time, when you've gained trust, you can mention your business more and include links and details in your signature when you post.
As your business progresses, you may even like to create your own gardening forum, linked from your website.
You might also like...