Attracting Customers to Your Business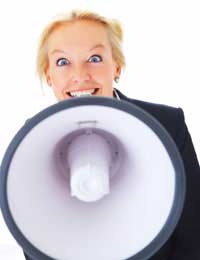 Once you've set up your new gardening business, the time comes to start attracting customers. But in what ways can you try and attract new business?
You've done all the hard work of creating your new gardening business, but once it's up and running, even more hard work is to come – and that's not just in the garden. It would be nice if customers automatically knew that a new business had opened and flocked there without encouragement, but sadly it's not that easy. In order to attract customers and clients, you need to advertise and promote your business – both in the short and long-term – and do all you can to make it seem and be appealing.
One of the ways in which you can attract customers to your gardening business is to use special offers, discounts or customer royalty schemes. These can work for both a gardening business selling gardening products and plants, a landscape design business and one offering practical gardening services, such as lawn mowing, hedge cutting and general garden maintenance. Special offers, such as discounts on services or products for a limited time, attract both new and existing customers and customer loyalty schemes work well with building up long-term loyalty and custom.
For example, for a customer loyalty scheme you could develop a simple card that's stamped each time a customer spends a certain amount in a gardening shop, or books your gardening services. When they fill their card with stamps, they could be entitled to a free gift, a plant or a good discount off their next purchase.
Developing Reputable Customer Service
Another way of attracting customers is to build up a reputable customer service, so people enjoy shopping from you or using your gardening services and recommend you to their friends and colleagues. Word of mouth recommendation is one of the best ways of building up customers, especially when you're offering gardening or landscape design services, as new clients like to book someone that comes personally recommended.
Like any business, you may have your ups and downs and run into tricky situations with clients and customers. By having a good customer service in place – and this is something worth thinking through in advance and getting ideas laid down – you can deal with any issues quickly and efficiently and, hopefully, not lose clients in the process.
Promotion and Marketing
If you wrote a business plan, then you should already have some idea of how you're going to promote and market your business. As well as the usual methods, such as creating posters, flyers, brochures and a website, sometimes the quirkier and unusual methods can help your business stand out. This could include anything from getting someone to dress up as a plant and hand out leaflets, to going on the road with a decorated van and offering free plant and gardening advice for a day.
Marketing and promotion are tasks that need to be carried out regularly, so you're able to retain the customers you already have and generate new ones. It's hard work at times, but when you have success with attracting – and keeping clients – and your business thrives, it makes it very worthwhile.
You might also like...
Jay - Your Question:
If I have no knowledge of gardening.but want to get involved in the business aspect of it. What do you suggest are the more beneficial routes to take when starting completely fresh?
---
Our Response:
As with every hobby or interest, 'knowledge is power' as you know the best approaches and and don't have to learn by mistakes. While gardening may seem straightforward many horticultural skills are needed. A course would be a good start to see whether this is for you (especially if you have never previously had any interest in gardening). Volunteering to do friends' gardens may also help you to see whether you have a natural flair. As you don't have much knowledge, the best approach is to start small and build it up in a natural direction and in the meantime watch as many programmes, read as much as you can and begin to learn.
StartAGardeningBusiness
- 17-May-16 @ 11:36 AM
If i have no knowledge of gardening..but want to get involved in the business aspect of it. What do you suggest are the more beneficial routes to take when starting completely fresh?
Jay
- 16-May-16 @ 1:43 PM