Running Classes and Gardening Demonstrations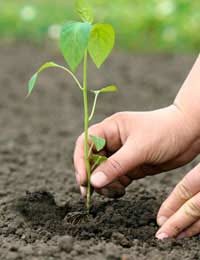 One interesting, and potentially lucrative, way of diversifying your business is to run gardening classes and demonstrations on a regular or occasional basis.
All gardeners welcome the chance to broaden their gardening education, learn new tips, discover new techniques, find out how to solve ongoing plant problems and share their love of gardening with other people. Running classes and demonstrations is both great fun, but also a practical way of helping your customers learn more and gain more confidence with their gardening.
You can either run gardening classes and demonstrations on a regular basis – for example, once a week for a term at a time – or occasionally, such as seasonal themed classes. There are benefits from both methods and, if your gardening business is particularly busy, then the occasional method may work better for you.
Organising Your Classes
Running classes locally or even nationally is one of the ways in which you can establish yourself as a recognised gardening teacher or demonstrator. If you have professional qualifications in your gardening speciality, then it will be beneficial, but it's not entirely necessary, as long as you have the relevant practical experience.
Before starting your planning, you'll need to carefully work out how many people you can comfortably accommodate and how much to charge. You need to cover the costs or running the class and any plants or materials used, but also make a profit. You don't want classes to be too expensive, otherwise people may not sign up, but neither do you want to lose money either.
One of the benefits of going elsewhere to teach your classes is that you won't have to provide the venue or sort out the logistics of it, as this may well be provided for you. This can sometimes take away some degree of hassle, especially when you're starting out in the early days and just want to get on with the crucial business of actually teaching and demonstrating gardening.
From a PR and marketing point of view, it may occasionally be beneficial to run a free class or demo, to attract extra attendees.
Teaching and Demonstrating in Your Own Premises
If you have your own shop, than running sessions where you teach or demonstrate gardening can be a very good way of drumming up extra business. Classes can take place at weekends, during the daytime or in the evening – but you will have to experiment to discover which time or day generates the best response.
Demo-ing products or plants you have for sale can have an obvious benefit on your business, as it offers up the chance for attendees to buy products and tools. If customers are paying to come along to a class you teach, then you could either include a set amount of materials for them to use within the class fee or offer discounts on anything they purchase as a result of the session.
Sometimes it may pay to offer free demos in your shop, for example on an ad hoc basis or when you're just establishing yourself, as it's likely to both encourage existing customers or new customers to come along and see what's on offer.
Joining Up With Other Gardening Companies
Getting together with other businesses in your local area, or other gardening specialists, and running workshops is also an option. It can be a good chance to showcase your skills, abilities and garden designs and broadens your business horizons.
Sometimes it may seem unwise to team up with another business similar to your own, but competition can be healthy. What's more, you're likely to be learn from each other and often two heads are better than one for coming up with new ideas to tackle the market. So try and learn from other businesses and don't disregard opportunities to network and interact with other specialist gardeners. Often they may already have a gardening following and teaming up with them brings their customers onto your radar.
Whether you're concentrating solely on teaching and demonstrating gardening, or want to have it as a subsidiary element of your business, in a world where learning a practical skill is highly relevant, it can be a beneficial part of a successful gardening business.
You might also like...