The Benefits of Selling at Gardening Fairs and Markets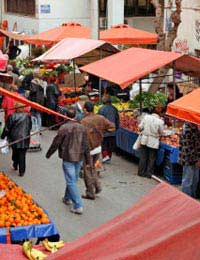 Each year in the UK, there are hundreds of different gardening-related fairs and markets taking place. If you'd like to broaden your business horizons, then getting involved and taking part in these events could be highly beneficial.
A wide variety of gardening fairs and markets take place regularly, from small local events, to regular monthly and regional fairs, to huge annual national events aimed at consumer gardening buyers. They're attended by a range of sellers, from those with gardening service businesses who want to reach a wider audience, those who don't own their own shop and purely use gardening fairs and markets as their primary selling tool, to larger gardening shops, stores and businesses.
There are many benefits of having a stand or stall at such an event. The obvious benefit is attracting more customers as, depending on the venue, location and aim of the fair or market, there may be a vast amount of people passing your stand each day.
It also offers a chance to advertise any additional services you offer too. Gardening fairs and markets are a good opportunity to be able to demonstrate gardening to the public, whether it's how to perform certain gardening techniques, like pruning roses, or how best to take cuttings of plants.
It also adds an extra element of interest to a stand to have someone there demonstrating gardening techniques and talking about gardening issues all day – you can bet that they'll regularly be a crowd around the stand at a fair or market that does this. People like the chance to stop and watch demonstrations and ask questions.
Different Types of Gardening Fairs and Markets
There are benefits of attending both regular gardening fairs and markets and events that are held only occasionally. If you decide to have a stand or stall at a regular event, then you may well find that you build up your client base of regulars who know where they'll find you each month and come back for additional customers. This can be really useful for those that aren't able to reach your bricks and mortar shop, or if you want to target areas slightly out of your normal reach.
With national and occasional events, you're likely to target a different type of customer. If you have an online or mail order part of your company, then you can benefit from promoting this side of your business at such events, as well as any special courses or demonstrations you run.
If you specialise in any particular brands of gardening products, or unusual plants that are hard to find anywhere else, then there are obvious benefits of reaching more customers by going out and about to fairs and markets.
The cost of having a stall and stand vary considerably. For smaller, local markets and fairs, you can expect to spend upwards of £10 per day, but the larger national events charge a lot more for the privilege of exhibiting. You'll have to weigh up the pros and cons of which type of market or fair you'd like to go along to and consider whether it's likely to be worth it for you and if you could build up your client base from attending. If you've got to travel a long way to get there and pay a big fee to exhibit, then perhaps it's best as an occasional event, rather than a regular.
Having a stand or stall at a fair or market can be a lot of fun, and you get to meet lots of other interesting people in the gardening business world. Events are more than just selling and can be valuable networking opportunities too.
You might also like...