Word of Mouth and Personal Recommendations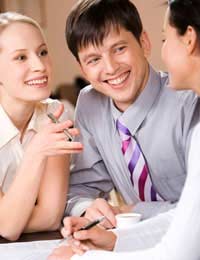 One form of promotion for your gardening business that you just can't beat is the power of word of mouth and personal recommendations.
Even if you've got your advertising, promotion and marketing strategy all sewn up and are gaining good results, getting word of mouth and personal recommendations can boost your business even more. It's always good to know that customers are happy with the service and goods you're providing and that they're happy enough to recommend you to others. This is one good reason why it's so important to look after your customers and serve them well, as they can help you reap rewards in terms of referrals and recommendations – and ultimately in financial gain.
How Can You Encourage Recommendations?
Discovering your gardening business has been recommended to someone else's friend, colleague or family member is a great feeling and reinforces the fact that you must be doing something right. Spontaneous recommendations like this are perfect, but a subtle bit of encouragement could also be used to encourage word of mouth recommendations.
For example, you could encourage personal recommendations by developing a customer incentive scheme. It may be a small discount for introducing a friend or perhaps a free gardening product. It's sometimes hard to keep track of genuine recommendations, especially if people are tempted by the lure of a free product, but you can make sure it remains above board by ensuring any recommendations are endorsed by both the current and potential customer.
Or, as some gardening shops do, you could have a scheme where a customer has to personally take along someone to recommend (perhaps with an incentive offered on the day for one or both of them) or send out numbered coupons to selected customers on your mailing list to pass on to other people.
Although it may be a bit of hassle and take time thinking through and setting up recommendation and referral schemes, anything that could ultimately increase your customer base and sales is definitely worth it in the long-run.
Online Referral Schemes
The benefits of word of mouth and personal recommendations doesn't have to be confined to bricks and mortar stores and shops. If you have a website or run an online retailing business, then you could still benefit from recommendations. In fact, you could positively encourage it by running some form on online referral scheme.
There are lots of online referral schemes in existence, from which you could glean ideas and inspiration. But as a rough guideline you could, for example, provide a discount or small incentive to customers who refer friends who subsequently purchase products from you. You will have to word your terms and conditions carefully, as you don't want to end up giving out discounts simply for receiving contact details of someone who may be interested in purchasing – you want to ensure they actually buy something before you pay out.
You could also encourage recommendations by offering people the chance to exchange website links with you or to link to your site from theirs. If you want to find relevant sites, then you could offer a link exchange programme, where you swap banner ads or links with other relevant businesses, forums or gardeners.
And finally, another useful bit of information to add to your website is a section with customer testimonials. If you're using emails, letters or comments received from people, it's always a good idea to check with them first that it's okay for you to publish the details.
START A GARDENING BUSINESS IS FOR SALE.
This website is for sale [more info].
You might also like...