Organising Your Finances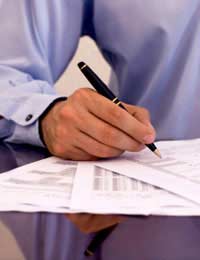 When you're running your own gardening business, it's of the utmost importance that you properly organise your finances and get your financial situation under control.
Everyone who has their own business needs to keep on top of their finances, both to keep the business running smoothly and to ensure all your relevant bills and employees are paid on time. You don't want to get into debt, get your book keeping in a pickle or miss out on making essential payments. When you're busy keeping all other areas of your business under control, it's understandable that you may not have enough time to organise your finances too. Due to this, it's a good idea to employ a book keeper, accountant or even both to take control of things for you.
Some of the financial elements you need to organise properly include:
Keeping details of all your incoming money.
Keeping details of all your outgoing expenditure and expenses.
Keeping hold of all your receipts and invoices, preferably filed away on a weekly or monthly basis.
Maintaining a payroll system for any employees and ensuring everyone is paid on time.
Paying any National Insurance.
Tax Bill Preparation and Savings
When you're self-employed, you're responsible for completing an annual Self-Assessment Tax Return at the end of each year and subsequently paying any tax you owe twice a year (including one estimated payment on account for the next year). In order to pay your tax, which could be a hefty bill if your gardening business has done well, you need to have adequate savings to pay it off.
Due to this, it's a good idea to get into the habit of automatically putting aside a percentage of all your earnings and putting them into a separate savings account. If you leave it all in the same account and suddenly have unexpected bills, it's all too tempting to forget about the tax issue and spend the money. But when the tax payment time comes, it's a nightmare if you don't have adequate savings available and suddenly have to find a large payment from somewhere.
Depending on your earnings and likely tax fee, aim to squirrel away between a quarter and a third of all your income, although you could also be guided by what your accountant advises. If you choose a bank account carefully, it could earn you a nice bit of interest whilst it's there and you won't experience a mad panic around tax bill payment time. If you have an accountant, then he can help you further by offering insight into ways in which you can save money on your tax, which is another key benefit of employing someone to do your accounts for you.
In addition to putting money aside to pay your tax bill, it's also good to do so for any business emergencies that occur. It's always possible that equipment may go wrong or break, technology may fail or any other unexpected situation occurs and if you need to buy replacement equipment or even a vehicle, then you need the funds to pay for it. Although it may not always be possible to have thousands on hand for emergencies, it's certainly a good idea to try and plan for a rainy day, just in case.
You might also like...